You're scratching your head, wondering what to get for the cyclist on your list. Relax, it's easier than you think! Big or small, simple or extravagant, the ideas are nearly inexhaustible. Besides the products showcased here from our advertisers, there are staples such as bike shorts and jerseys, sunglasses, energy bars, tools, lubes, tubes and tires, just to mention a few. But there's also the more unique: from special blends of coffee (Phil Liggett's Morning Brew or Jittery Joe's) to Colnago's Carbon Fiber Gift Set (including a signature watch, pen) to a GP or two-way radios, or a deluxe tour or trip to a training camp; there are also vintage cycling posters, or DVDs of classic cycling movies, such as Breaking Away, or even a membership in an advocacy group such as IMBA or the League of American Bicyclists; or, from Bicycling, there's always the option of a gift subscription to the magazine. So, enjoy the holidays–everything about them, including the shopping!
NIKON N75 SLR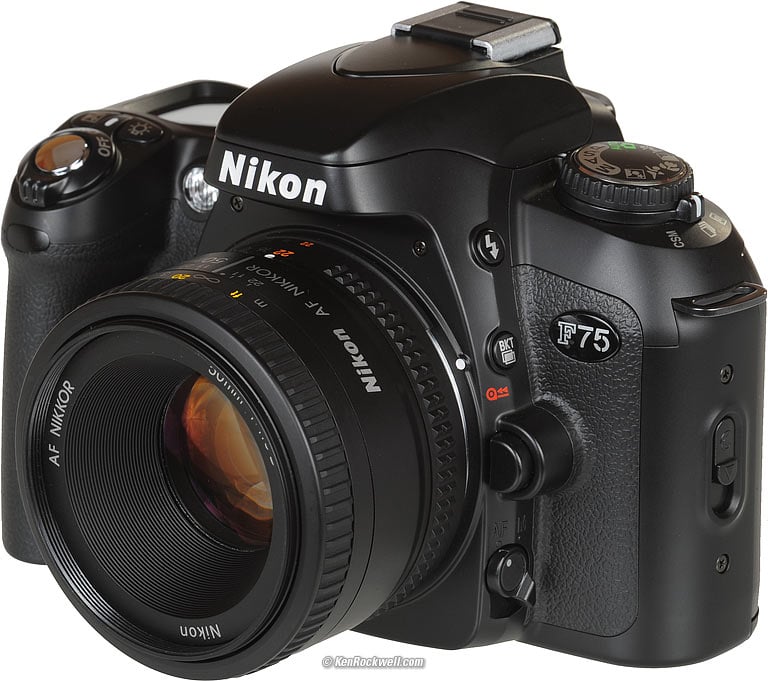 If sharp SLR pictures matter, everything inside The Nikon N75SLR matters. It empowers photographers–beginners to experienced alike–with innovative technology to create great pictures with stunning color and exceptional sharpness, while providing them with a choice of simplicity and ease-of-use or full personal control. The N75 is a great choice for portraits, sports action, nature photography, and all shots that matter.
ELITE "TDF CENTENAIRE" TRAINER
Celebrate the 100th anniversary of the Tour De France with the limited edition numbered ELITE "TDF Centenaire" trainer. The chromed folding trainer stand resists flexing while the "Elasto-Gel" resistance roller and hydrodynamic oil resistance unit provides adjustable resistance. A 16 function monitor for best training results is included.
PROMAX i-pad ILLUMINATING BRAKE PADS
Introducing i-pads, from Promax. i-pads fit virtually every road, mountain and BMX bike with rim brakes, and feature two LED lights which illuminate whenever the brakes are applied. Promax i-pads make a great gift for any cyclist.
RAV X PERFORMER X
Emergency bicycle tool. The Performer X combines a compact, lightweight tool design with versatile features and functionality for on-the-trail tweaking and reapir. It has 20 functions including hex wrenches, screw drivers, spoke keys, torx wrench and an independent chain cutter.
SIDI DRAGON SRS MESH MOUNTAIN BIKE SHOE
Our most advanced mountain shoe yet! Even if you manage to wear out the lugs, you can replace them with our unique Sole Replacement System (SRS) and still keep riding. Sidi's NEW High Traction SRS Mountain Sole is the perfect platform for this Lorica upper with our 3-buckle closure system. Available in sizes 39-48 and half sizes in 39.5-46.5.
EASTON EC90 OVERSIZED ROAD BAR
The choice of Tyler Hamilton! Easton designed this bar with its cutting-edge Intelligent Flexibility & Taperwall Construction Technologies. At 290 grams and with a Reach/Drop of 158mm, this Oversized Ergo Bend road bar is the perfect stocking stuffer for the Roadie in your house and better yet, it's stamped with Easton's Limited Lifetime Warranty!
VREDESTEIN FORTEZZA TRI COMP RACE TYRE
The Fortezza TriComp incorporates an additional PRS (Puncture Resistance System Technology) layer to give this race tyre clincher technology with the ride of a tubular. At 240 grams, this tyre performs best when pumped to 150 PSI. For speed without compromise, and unmatched handling and ride quality, try the Vredestein tyre and tube system.
CICLOSPORT USPS HAC 4
The choice of the US Postal Service Pro Cycling Team! This limited edition 57 function HAC 4 delivers more accuracy obsessed features per dollar than any of its competitors. From speed to altitude to power, it's a heart rate monitor, altimeter and cyclometer all-in-one! The perfect stocking stuffer for your roadie or mountain biker!
ENERVIT ENERVITENE SPORT GEL
You've fine-tuned your bike for optimum performance, have you done the same for your body? The Enervit Enervitene Sport Gel is the only energy replacement gel with 15.6 grams of fructose for long lasting energy and B group vitamins for quicker carbohydrate assimilation. Available in Lemon or Cola Flavors.
LOOK CARBON STEM
Look never stops pushing the envelope when it comes to carbon fiber technology. From frames to pedals to accessories, Look brings you the Carbon Stem–the perfect lightweight component that doesn't sacrifice strength. This stem weighs in at just 155 grams and is compatible with clamp diameters of 26.0 or 31.8mm. In a natural carbon fiber finish, it's the perfect way to finish off your road bike!
NIKON COOLPIX 5700
If digital detail matters, everything inside the Nikon[R] Coolpix[R] 5700 matters. It's the overachiever of digital cameras. Its advanced features include a powerful 8x Optical Zoom-Nikkor[R] ED lens, 5.0 effective Megapixels, and an electronic viewfinder for easier focusing. The Coolpix 5700's tele-converter and wide-angle converter lens options help you get the reach and flexibility of the pros. If taking digital to the next dimension matters, get there with the Nikon Coolpix 5700.
THE PERFECT CYCLING

 

GIFT

!
Don't let the cyclist an your gift list go another mile without Road ID[R]! This necessary part of cycling gear is invaluable in the event of an unforeseen accident while on the roads. Road ID[R] is available in 4 models: the FIXX ID, WRIST ID, ANKLE ID, & SHOE ID.
WORLD'S BEST TRAINER … THE EXPERTS AGREE
Want a Kinetic Trainer, cut out this page for your gift buyer!
The Kinetic is the World's Best because it has the most road like ride. The fluid resistance is smooth and quiet. The Cycling Press says the Kinetic as their "favorite" Ask for a Kinetic at your local bike shop or buy one online.